From very spicy fried noodles, delicious satay sold on the side of the road to typical Thai snacks have made this country a special tourist destination for culinary lovers. So, if you're on holiday in Thailand, don't forget to try this Thai street food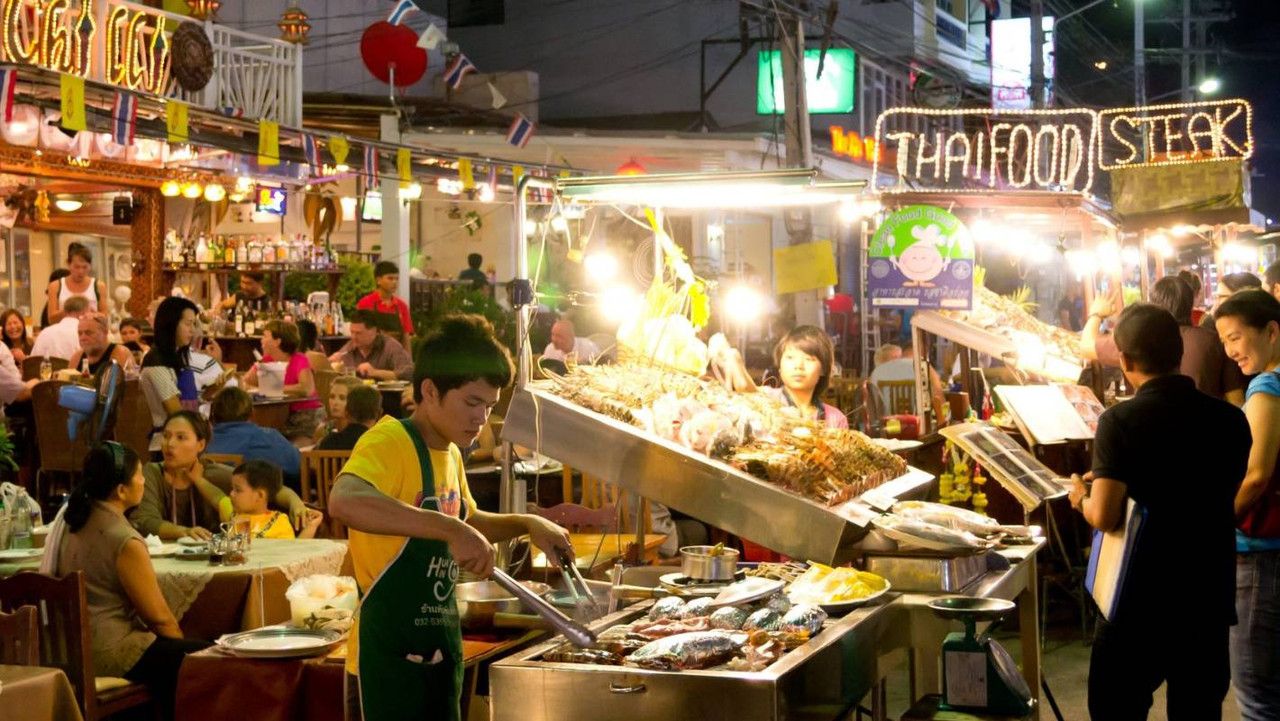 1. Mango Sticky Rice
When talking about desserts that are popular in Thailand, the answer is definitely mango sticky rice.
Mango sticky rice in Thai is khaoniao mamuang, this sweet plant-based treat features sweet Thai mango slices mixed with sticky rice and a creamy coconut sauce.
2. Som Tam
Delicious and halal Thailand street food, there is Som Tam. This dish ranges from a salad of grated green papaya pounded with chilies, garlic, lime and stuffed with small prawns to a skewered fermented fish.
3. Kuai Tiao Nam Tok
Don't admit to Thailand if you haven't tasted this one street food. This noodle soup, which has a thick pork-like broth in it, is what makes Thai kuai tiao nam tok so very enjoyable for foodies.
4. Pad Thai
Pad thai is one of the Thai street foods which is a favorite of culinary connoisseurs. This food is a fried noodle dish that is generally made with shrimp or chicken. If you are a vegetarian there are also variants, you know! Pad thai is found on almost every street corner and is a cheap and delicious meal. Lisa BLACKPINK especially likes Pad Thai too, you know!
5. Hoi Thod
Hoi Thod, an oyster and clam dish similar to an omelette or pancake, is less well known than pad Thailand but very popular among the local population. If you order this menu, try adding a lot of sauce so that it continues to be delicious.
6. Moo ping
The juicy, fatty chunks of roast pork are a true delight. Moo ping is the most popular Thailand street food that is very much in demand. Every skewer of pork skewers softened with coconut milk and seasoned with various spices when eaten together with sticky rice will always add to the extraordinary taste.
7. Phat kaphrao
Phat kaphrao is a mix menu between spicy mince or diced meat and fragrant basil leaves. This dish is serve over rice with crispy fried eggs and egg yolks.
8. Thai Khao soi
Although it still sounds foreign to foreign tourists, khao soi is a Thailand street food with a curry noodle soup typical of the northern part of the country which is influence by flavors from the country of Myanmar with crispy fried noodles douse over a large size bowl.
9. Kai Med Ma Muang
This one menu is love not only by local residents but also foreign tourists. This sweet and flavorful dish consists of fried chicken with cashews, soy sauce, honey, onions, chili peppers, pepper and mushrooms.
10. Thai Guay Teow
Guay teow is arguably one of the most popular Thailand dishes and can be found almost everywhere. Guay teow describes all types of noodle soups. This dish is made with chicken, pork or beef and rice noodles or egg noodles. This dish is most delicious when served with selected spices including, sugar, dried chilies, lime juice, and fish sauce. Guay teow can be eat anytime and is excellent as a late night snack.